How to Add Style and Flair to Your Bathroom
Posted by Teresa Ryan on Thursday, March 3, 2022 at 2:58 PM
By Teresa Ryan / March 3, 2022
Comment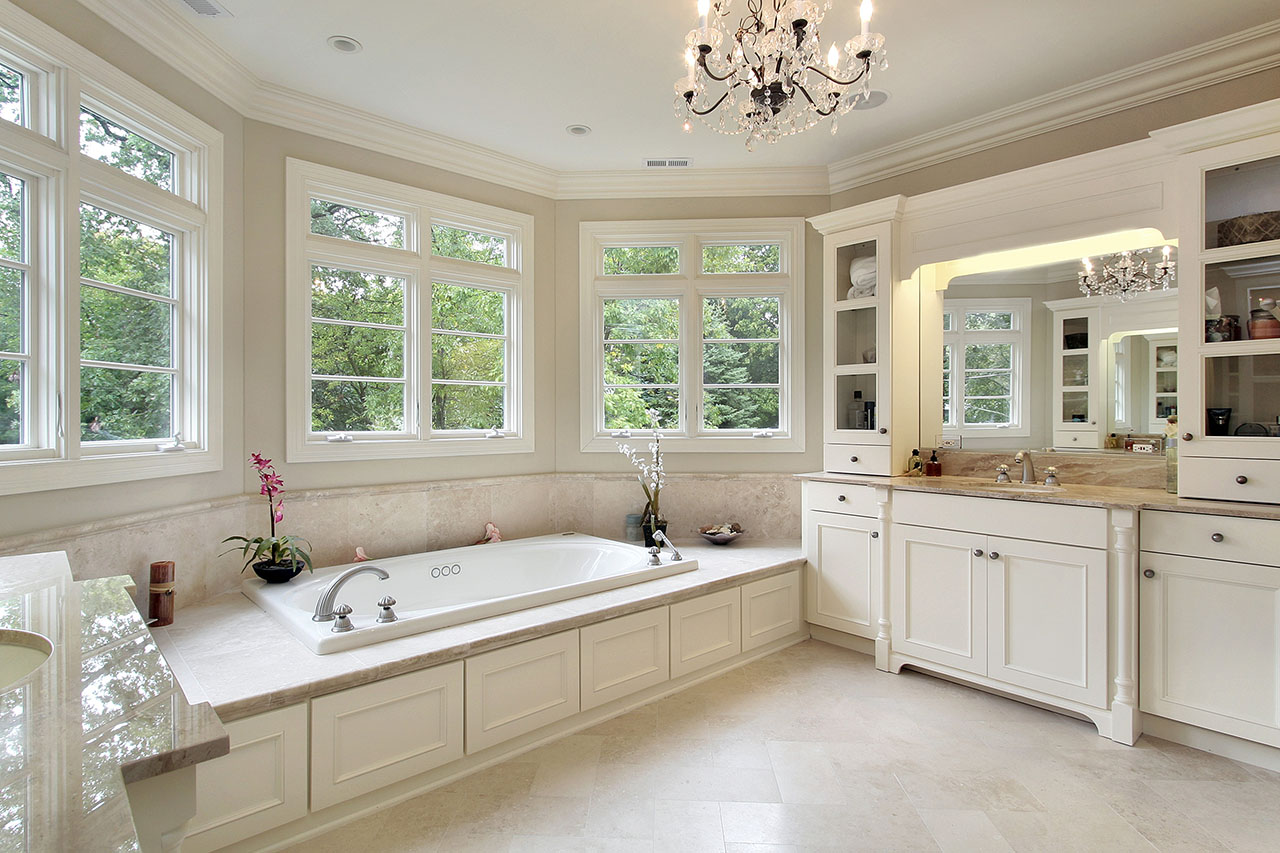 Here are some tips on How to Add Style and Flair to Your Bathroom
Having a luxurious bathroom that evokes a warm-and-fuzzy feeling can sometimes prove paradoxical. In Naperville, several neighborhood communities such as Cress Creek, Century Farms, Naperville Heights, and even Longwood all have posh, spa-like, modern bathrooms with expanded showers, whirlpool baths, dual sinks, and other higher-end features. It's not that the aspects themselves aren't comforting or are stark by any means; however, if you don't pair the hardware with the right lighting, for example, you can end up with a drab or clinical sort of spa-bath that appears disconnected from the rest of your home's theme.
The first mistake many people do in decorating the bathroom is keeping it too simple. No patterns, no pictures, nothing to infuse it with the life of any sort, so that even an upgraded bathroom ends up looking drab. But by implementing some easy changes, you can make all of your Naperville home's bathrooms look even more lively and unique to your tastes and styles!
Here are some fun bathroom decorating suggestions:
Instead of a basic shower curtain, rod, and boring plastic hooks, use a vibrant curtain (possibly with horizontal stripes), a brushed nickel rod, and decorative metal hooks (same as you would use for window treatments) to match whatever playful theme you might want to add to the room.
If your shower has glass doors, you can play around with colors and styles/patterns on towels that you hang – and while you're at it, swap out the towel bar with a decorative door knocker, or use wall hooks here too.
Don't be afraid to hang art in the bathroom! Whether from a framed watercolor, wall-hanging, wallpaper border, or paint-stenciled designs, don't just leave the walls bare.
Dress up a bathroom window with a drapery panel to add warmth (plus privacy) to the room.
Add patterned tiles as baseboard accents. Functional and at the same time fun, accent tiles will help keep water splashes from ruining the baseboards, while finishing off the look of the room.
Use lighter colors to keep the spa bath looking airy and clean, but don't be afraid to change it up with darker, contrasting colors. For example, add a chair rail 36 inches high and paint the lower part of the wall with the dark color, and keep the top half of the walls in a lighter color, or keep it white but add stenciled designs using a lighter color (or wallpaper). Doing these things will complement white fixtures.
For a bathroom with a large shower, tub, mirror, or windows that outnumber wall space, use a dark color for the walls to draw more attention to them and balance out the other elements.
For larger bathrooms with a toilet, install a privacy screen (a lattice or free-standing one) to separate the toilet from the rest of the room. This allows you some privacy without shrinking the room while highlighting your vanity.
Frame the mirror to give it more depth and a finished look. While there are many ways to do so, why not decorate the edges similar to a picture frame, or embellish panels to make them stand out in a sort of pattern?
Hang the mirror from a strap on the wall or even the ceiling. This unexpected feature will make the room look anything but ordinary, especially if you use a chunky strap out of rope!
Add wall shelves or a free-standing etagére and arrange them as you would bookcases, but with spa-related, most used items. The balance of variety in the room can make the shelves become the focal point, so attention to how the items are displayed is key.
Change up materials used in the room by introducing "naturals" like stone, wood, and jute, instead of the coldness of gleaming metals. Use a blown glass sink basin, stone countertop, a wooden-framed mirror, or jute baskets.
Animal and nature prints or color schemes in shades of neutral greens and darkened bronze on the walls can make the room more vibrant. Dress it up further by hanging hand towels with tassels.
Pair a porcelain vessel sink or farmhouse sink with a tall, brass, or bronze faucet. This will give them a more polished look.
Create an accent wall out of tile, or mix in random tiles among plain white ones to add interest and a focal point.
Use knobs and finials in place of standard hardware to give drawers, doors, and cabinets depth.
Wallpaper the ceiling! If nothing else works in terms of having the right spot for splashes of color, the ceiling is always available. When done with a pattern, it can give the room a more intimate feel and tie the rest of the elements together.
Add a dimmer to the room to control the balance of light at any time of day, swap out standard lighting fixtures on the vanity for more interesting ones, and install a chandelier for the overhead light to make the room look more elegant and comforting like a true spa-like bathroom.
If you need assistance in selling your Naperville property please do not hesitate to contact us at www.RyanHillGroup.com. Call Listing Agent and Managing Broker of Ryan Hill Group, Teresa Ryan at 630-276-7575 for a no-obligation home sale consultation.
Get a copy of our Home Selling Guide written by Teresa Ryan specifically for homeowners in Naperville and the surrounding suburbs.