Finding the Right Home Insurance Agency and Agent
Posted by Teresa Ryan on Friday, June 23, 2023 at 1:45 PM
By Teresa Ryan / June 23, 2023
Comment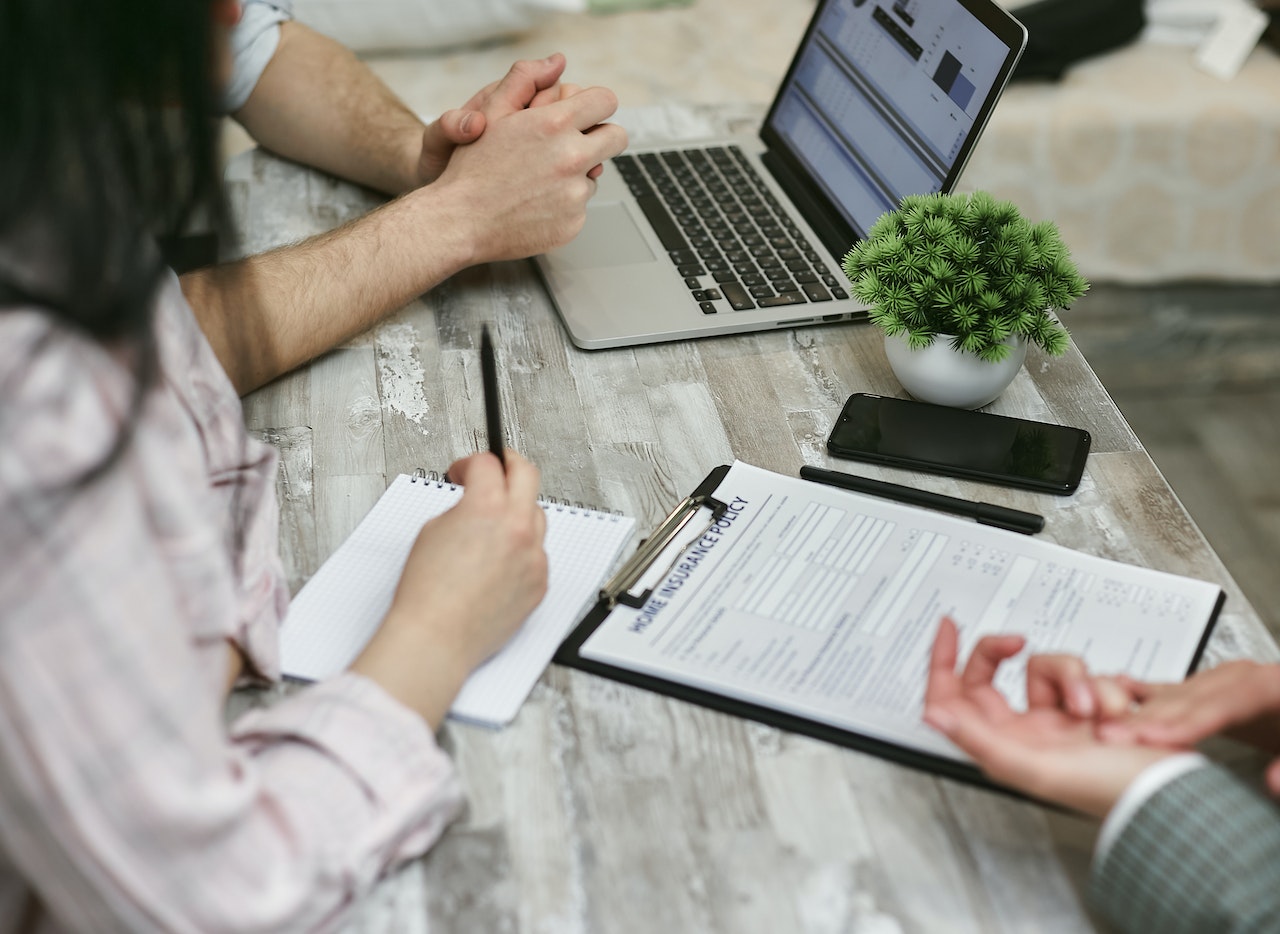 Do you know what to look for in a home insurance agency?
Since policies can vary, so can the companies that cover you. It pays to shop around for quotes, but also to ask the right questions and feel comfortable with who is serving you so that you can feel more confident in the choices you make.
Here are some handy questions to ask when looking for a home insurance company:
Will my premium be affected by my credit history?
Will claims affect my premium upon renewal of the policy and will it cost me more overall?
Is there a claims history on the home I'm looking to insure?
How much personal property coverage should I have?
How much liability coverage should I have?
What will be covered and not covered under the policy? What are the limits on coverage?
What types of water damage are not covered under the policy? Is mold damage a covered peril?
Do I need flood or earthquake coverage? Can you help determine how much my home is at risk?
When reviewing companies, don't forget to also check out consumer ratings, reviews, and complaints, including those from the Moody's, and Standard and Poor's. Referrals from your friends and family are helpful but aren't the end-all to choosing an agent. Ideally, you want a knowledgeable professional as your agent, to serve you whether or not someone you know is also using that person or the company he or she represents.
There are three types of agents you might have. These include exclusive agents who only sell products for one insurance company, direct market sales agents who can work with you via phone, mail or internet, and independent agents who represent more than one company, which can be useful in obtaining multiple quotes.
Don't only research prospective companies, but also the agent(s) you are considering, and review their credentials. Are they who they say they claim to be? Unfortunately, not everyone is reputable. Be proactive and know exactly what you are getting into, so you have everything to do with your policy and future claims in competent hands and don't get cheated out of your money or left unattended to in your time of need.
Let your agent help you do the math
All home insurance policies have different limits of coverage, and any loss you suffer, even if it is a peril covered under your policy, comes with limits in the amount you will be reimbursed. When you first establish your home insurance policy, let your agent help you in determining the appropriate amount of insurance coverage and limits for your dwelling based on the home's worth and other structures on the property, what personal property you own, and how much you would want for medical payments in your personal liability coverage.
As with other types of insurance policies, home insurance has a deductible insurers must meet before a claim will be covered. The deductible is the amount you are responsible to pay for when a loss occurs, and once that amount is reached, the insurance company will cover the rest up to the agreed upon limit.

During the underwriting process, your premium will also be established. This is the cost of your policy, payable on a monthly, quarterly, or annual basis. In addition to the amount of coverage you choose, there are other factors that determine the premium's rate, such as:
If your home has a wood stove or wood furnace
Pet ownership
If your home is made from brick or wood
If you have outdoor amenities that are considered high-risk – playgrounds, trampoline, or a pool
Costs associated with rebuilding your home
The distance from your home to the nearest fire department and water source
How old your home is and its current condition
The history of claims for your home and others in the neighborhood, as well as the neighborhood's overall condition
The roof's condition and when last replaced or repaired
The age of your home
Foundation type
Whether the home has any type of security system
Age and type of heating and cooling system
Square footage and number of bathrooms and bedrooms
Garage
While you can receive a quick quote on what premium you can expect to pay and compare that with rates with other insurance companies, it is more helpful to determine your coverages and limits for your policy, first, based on actual costs vs. replacement costs. Do you know the difference?
Actual cash value, also known as ACV, reimburses your loss or damage to your possessions less their depreciation value, or the rate at which they age as well as how they age. Because the actual costs tend to be lower than current market value, premiums can also be lower.
Replacement cost value, also known as RCV, replaces lost or damaged possessions with those of similar ones based on what current market values are, which tends to make premiums higher.
If at any time during the process of setting up your policy you are unsure about something, ask questions to gain a full understanding, so that you know what to expect in the event you suffer a loss!
If you need assistance in selling your home in Naperville or the Chicago suburbs, please do not hesitate to call top Listing Agent and Managing Broker of Ryan Hill Group, Teresa Ryan, at 630-276-7575-for a no-obligation home sale consultation.
---
Selling a home? Here's a free Home Selling Guide with all the information, tips, and tools you will need to successfully sell your home in Chicago's Western Suburbs.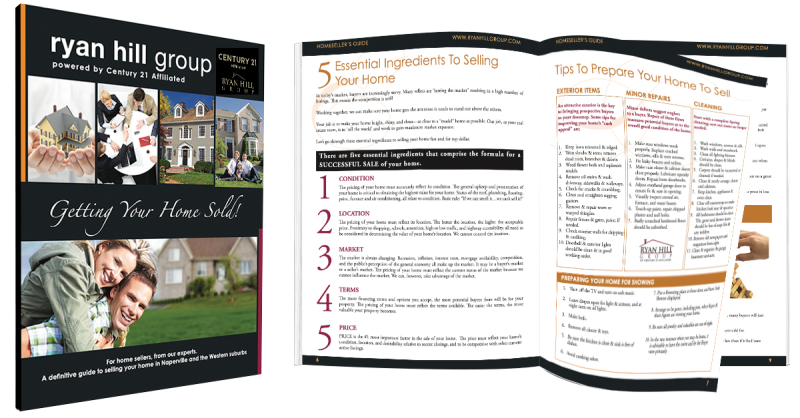 Get a copy of our Home Buyer Guide written by Teresa Ryan for Chicagoland home buyers, visit: FREE Home Buyer's Guide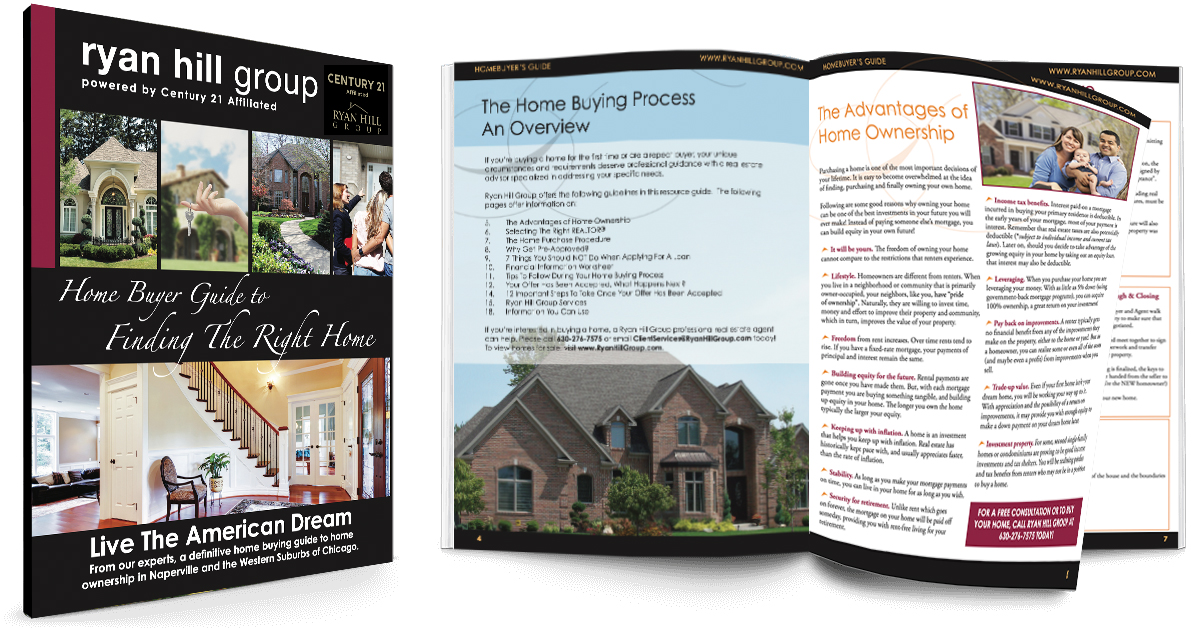 More helpful aricles: