Chicago Homebuyers Find Suburbs Appealing
Posted by Teresa Ryan on Monday, December 27, 2021 at 10:49 AM
By Teresa Ryan / December 27, 2021
Comment
Chicago Homebuyers Find Suburbs Appealing
The Chicago suburbs have become appealing to homebuyers in the area who are looking for more homes for their money after having to pay high rent costs in the city. Suburban homes are less expensive for more square feet, so it's no surprise that singles and families alike are shopping around in places like Wheaton, Lisle, and Glen Ellyn. In these locales, there are fewer instances of crime, plenty of activities within walking or driving distance, and quality schools.
Suburban Chicago Neighborhoods
Today's homebuyers don't take home shopping lightly. Through careful consideration, they are looking through all the homes that appeal to them, one neighborhood at a time, until they are successful in finding what they want.
Wheaton
Arrowhead is very family-friendly, with several activities in the area, including parks, playgrounds, and golf at Arrowhead Golf Club. Most homes are single-family homes with finished basements, with as much as ¼ acre of land per lot.
Danada West is a popular family-friendly neighborhood with spacious, single-family homes and access to nearby shopping and Seven Gables Park.
Lisle
Green Trails has single-family homes and condominiums and is a family-friendly and pet-friendly neighborhood. Close proximity to parks, playgrounds, and several forest preserves.
Meadows is an active community for families featuring a swim and tennis club, heated pools, a courtyard for hosting parties, and a variety of other outdoor sports activities.
Glen Ellyn
Glen Ellyn Countryside offers homes for families of all ages, within a cozy community. Residents enjoy access to the clubhouse, tennis courts, and nearby parks and playgrounds.
Rolling Hedge has a mix of mostly single-family homes ranging from 2,000 – 5,000 square feet in size, with several spacious parks and playgrounds within walking distance.
Tips for first-time homebuyers when house-hunting
Make a list of your must-haves and keep that handy for when you start looking at listings. It will help you stay focused on the features you really want, and less distracted by any other extras that you come across.
Take lots of notes on each home you tour, and stay organized so you can know at a glance which homes you liked the best and what features they have.
Enjoy the moment when touring a home for the first time. Don't try to think ahead or rush through the experience, so you get a full sense of whether or not the home meets your approval.
Restart your tour. After you've gone through the house, go over it again with a more critical eye.
Measure your furniture before you tour homes. That way, you can be sure that your furniture will fit where they are intended, and if not, you can decide whether it would be worth it to renovate the home or move on to another show elsewhere.
Create a rough floor plan of the homes on your tour. Nothing fancy is required – just a basic-shaped layout to get an overall view of the home to help you visualize each home better.
Take photos and videos (if allowed) to have more to add to your notes and floor plan.
Look through cupboards, drawers, and closets so you know how much storage space each home has.
Look at the home from all angles – up at the ceiling, underneath rugs, and the walls and other views. You don't want to miss anything that could cost you money to repair from not knowing ahead of time that there were problems.
Visit the property at different times of day to get a true sense of what living in it might be like.
Can you envision yourself living in the home you are touring? If so, congratulations! You just might have found a home to buy!
If you need assistance in buying or selling your Naperville property please do not hesitate to contact us at www.RyanHillGroup.com. Call Listing Agent and Managing Broker of Ryan Hill Group, Teresa Ryan at 630-276-7575 for a no-obligation consultation.
Get a copy of our Home Buyer Guide written by Teresa Ryan for Chicagoland home buyers, visit: FREE Home Buyer's Guide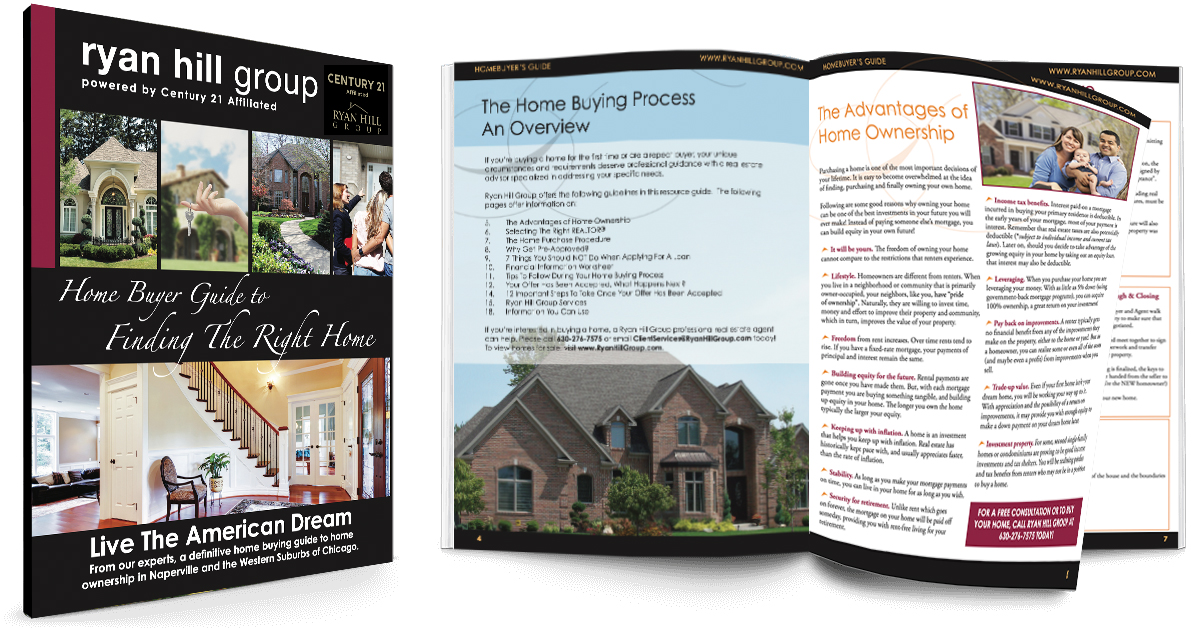 Thinking About Buying a Home in the Greater Chicago Area? Contact Ryan Hill Group Today! Learn about Ryan Hill Group's exclusive Dream Home Finder Program today!
More blogs about: