CENTURY 21 Affiliated Sales Team, Ryan Hill Group, Earns 2021 DOUBLE CENTURION® Team Award for Production
Posted by Teresa Ryan on Tuesday, April 12, 2022 at 1:41 PM
By Teresa Ryan / April 12, 2022
Comment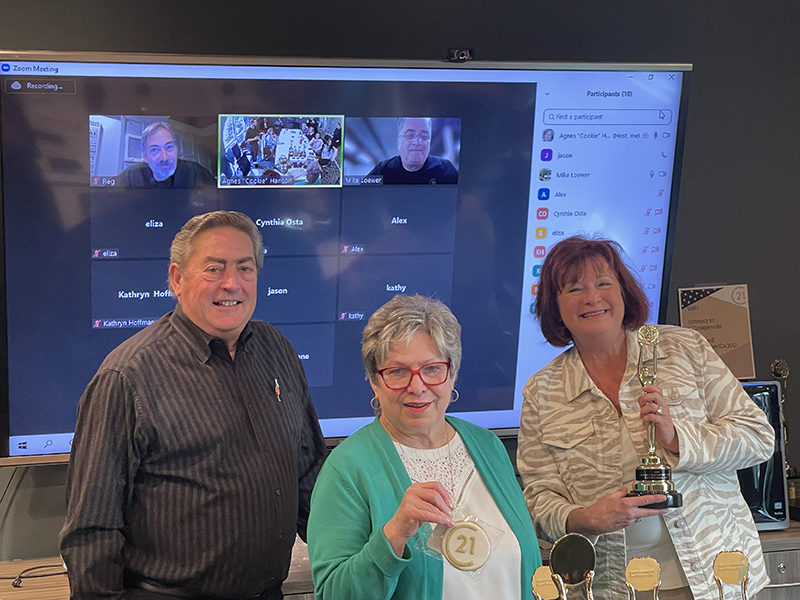 CENTURY 21 Affiliated Sales Team Earns
2021 DOUBLE CENTURION® Team Award for Production
Naperville, IL -- CENTURY 21 Affiliated today announced that Ryan Hill Group sales team was recently recognized with the DOUBLE CENTURION Team Award from Century 21 Real Estate LLC for their outstanding production in 2021.
The 9-person team consists of Teresa Ryan - Team Lead, Mike Loewer, Raymond Marion, Kathy Linsner, Jennifer Poidomani, Cynthia Osta, Lana Bassetto, Caitlin Haap, and Amanda Chalus. The DOUBLE CENTURION Team Award is awarded to the Ryan Hill Group sales team for generating over $38 million in sales volume and over 100 transaction sides, during the calendar year.
"The receipt of this award is a great honor for CENTURY 21 Affiliated," stated managing broker Agnes Hanson. "The hard work and diligence displayed by Teresa Ryan and the Ryan Hill Group team, is truly exemplary of the spirit guiding our company."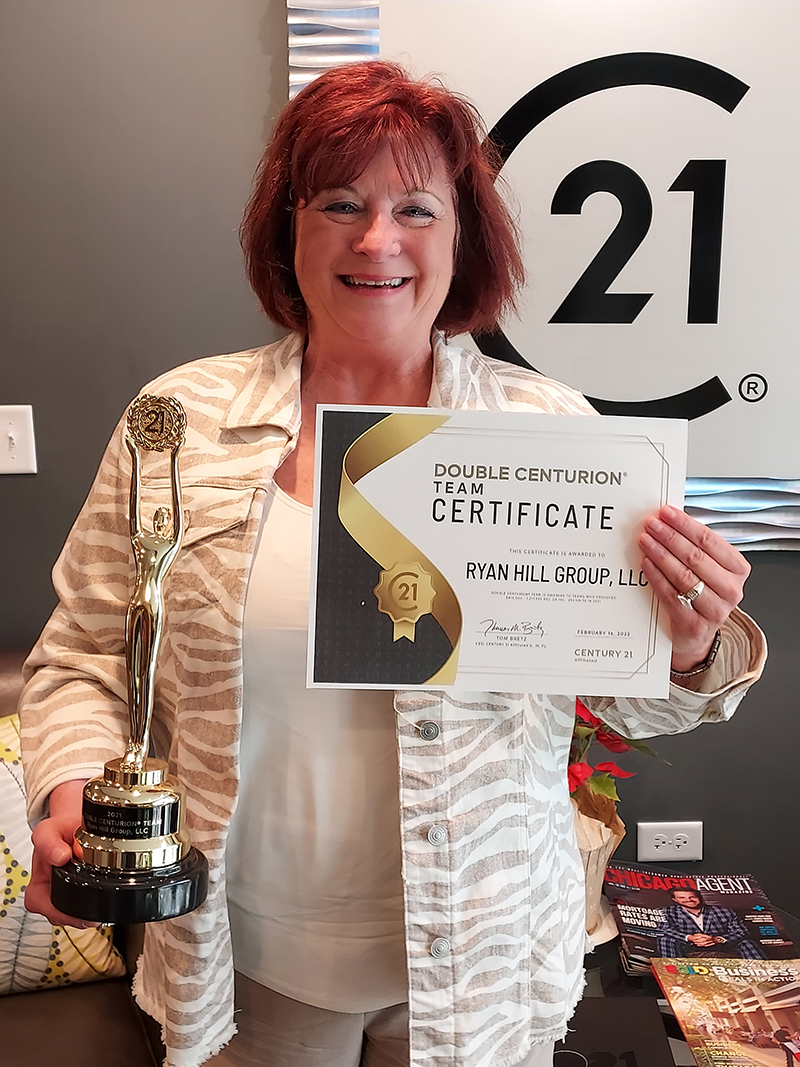 "The power of the CENTURY 21 brand rests on the shoulders of the relentless sales professionals like Teresa Ryan and the Ryan Hill Group sales team who always elevate and give 121% to their clients throughout the entire client relationship," said Michael Miedler, president and CEO, Century 21 Real Estate. "So as we celebrate their accomplishments we understand that delivering extraordinary experiences is what homebuyers, sellers and property investors deserve, and they should be demanding from their real estate company and agent of choice."
About Ryan Hill Group
Ryan Hill Group, a Century 21 Affiliated team led by Managing Broker Teresa Ryan, offers unparalleled commitment to excellence facilitated by progressive sales training models, with creative and comprehensive marketing, and sales efforts. Our success is due to a driven focus on the needs of today's buyers and sellers and in maintaining a professional team of real estate experts who produce winning results for every client. The team offers real estate buyers and sellers the American Dream in the Chicagoland suburban market. We have served the Dupage, Kendall, Kane, Will and Cook County property markets since 2001. Learn more at RyanHillGroup.com.
About CENTURY 21 Affiliated
CENTURY 21 Affiliated is an independently owned and operated franchise affiliate of CENTURY 21 Real Estate LLC (century21.com), franchisor of the iconic CENTURY 21® brand. Century 21 Real Estate LLC is comprised of approximately 14,250 independently owned and operated franchised broker offices in 86 countries and territories worldwide with about 153,000 independent sales professionals. Century 21 Real Estate has numerous websites to help answer specific consumer needs. They are c21affiliated.com, century21.com, century21Global.com, commercial.century21.com, century21.com/finehomes, and century21espanol.com.
©2022 Century 21 Real Estate LLC. All Rights Reserved. CENTURY 21®, the CENTURY 21 Logo and C21® are registered service marks owned by Century 21 Real Estate LLC. Century 21 Real Estate LLC fully supports the principles of the Fair Housing Act and the Equal Opportunity Act. Each office is independently owned and operated.