Caring For Your Wooded Backyard of Your Naperville Home
Posted by Teresa Ryan on Monday, March 7, 2022 at 3:29 PM
By Teresa Ryan / March 7, 2022
Comment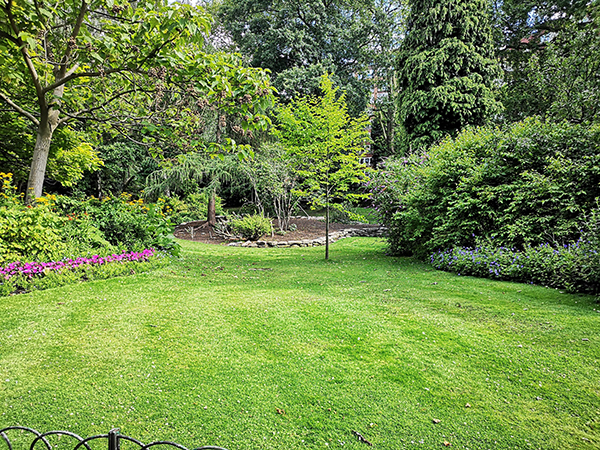 Here are some Tips on How to Take Care of your Wooded Backyard
Having a wooded backyard outside of your home can afford you the privacy and panoramic views you desire from living in a Naperville neighborhood. Children love playing in it, adults love hiking through it, and together, everyone can help take care of it year-round so that it holds just as much charm in every season.
Helping Maintain the Habitat
Your wooded backyard is not just a unique extension of your property, as well as a part of the Naperville neighborhood at large, but it is also home to a variety of wildlife. So while you can reap the benefits of cleaner air, a buffer from harsh winter winds, shade in summer, and a boost to your property value, you can in turn benefit nature by:
Planting trees, flowers, and shrubs or a garden of wildflowers or ferns. This will attract pollinators like bees, butterflies, and birds, but also provide food and shelter for insects, deer, rabbits, mice, and other animals.
Clearing a path for a walking trail, and turning those dead twigs and leaves into brush piles for woodland creatures to use for nesting and shelter.
Learning about local wildlife in Naperville for each season through the Naperville Park District programs. Did you know that some of the animals native to Illinois are coyotes, beavers, white-tailed deer, Eurasian-collared doves, black bears, Norway rats, wild boars, alligator snapping turtles, red foxes, Eastern cottontail rabbits, bobcats, woodchucks, and Eastern wild turkeys?
Preserving a dead tree rather than having it cut down, so that woodland creatures can make use of it.
Put up nesting boxes and birdhouses at the edge of your backyard or inside of the woods. You can also include some bird feeders or birdbaths, but sparingly, so that the birds and other small creatures can still rely on their natural instincts and the habitat for their food source – which will keep both you and them safer as a result.
Familiarizing yourself with the woods. Take a walk throughout the woods to explore its boundaries and lay of the land so you get a full picture of what exists on your property and to get your bearings. It will also be helpful in knowing where your property ends and your neighbor's begins, to avoid inadvertently trespassing, and to know which plants or shrubs to avoid handling, as with poison ivy or poison oak.
Maintaining your lawn. Your lawn was once part of the woods, and that is why creatures will from time-to-time traipse through your yard – even in the city. To keep it from reverting to its previously wooded form, mow regularly so that there is a distinction between your yard and the woods.
Securing your pets when outdoors. Domesticated cats and dogs and other small creatures are all viewed by nature as part of the food chain. If left unattended, or unsecured, they can easily become prey to larger – and feral – animals, or be seen as threats to smaller ones.
Leaving tree removal to professionals. Sometimes you might want to have a dead, diseased, or fallen tree removed, especially if it is a possible hazard to your home, your neighbors', or the rest of the woods. But instead of trying to do it yourself, consult with a tree removal expert who will know what to do and how to do it best, to ensure your safety.
Familiarizing yourself with the difference between open burning and recreational fires. In Naperville, it is prohibited to burn any plants, leaves, or trees. Campfires, however, are permitted if they are properly contained within a commercially-made fire pit or grill, and do not use anything but firewood or charcoal.
If you need assistance in selling your Naperville property please do not hesitate to contact us at www.RyanHillGroup.com. Call Listing Agent and Managing Broker of Ryan Hill Group, Teresa Ryan at 630-276-7575 for a no-obligation home sale consultation.
Get a copy of our Home Seller Guide written by Teresa Ryan for Chicagoland home buyers, visit: FREE Home Buyer's Guide