Bicycling in Naperville
Posted by Teresa Ryan on Thursday, November 10, 2022 at 2:22 PM
By Teresa Ryan / November 10, 2022
Comment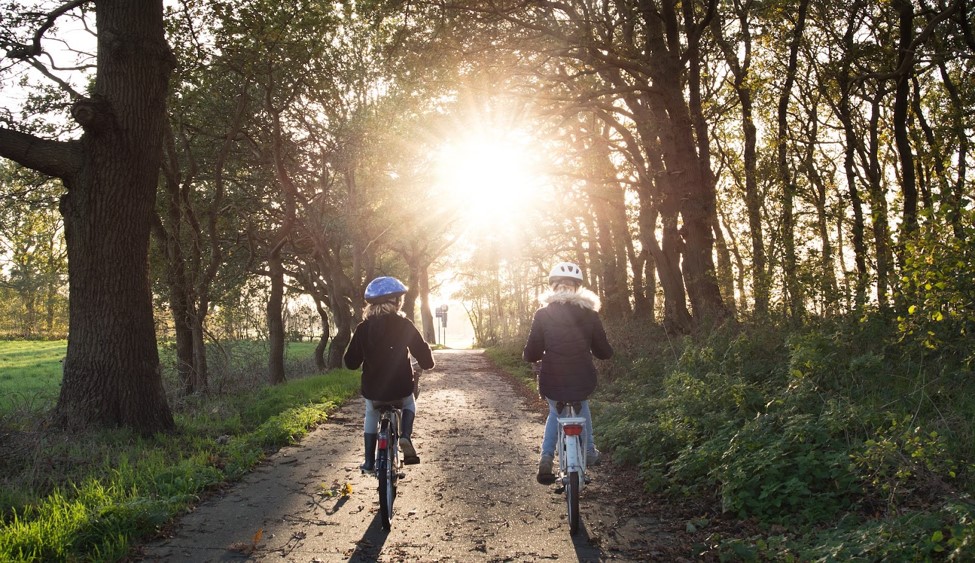 Naperville works hard to keep its residents safe on bicycle trails, and around the community as a whole, encouraging everyone to keep apprised of any roadway changes and closures during construction projects.
As a rule, the biggest reminder for bike safety lies with bicyclists' ability to remain aware when on roads and trails. The Naperville Police Department teamed up with the Naperville Park District in issuing citations to bicyclists of all ages who don't adhere to these community-wide bike safety rules at all times:
Wearing a helmet.
Keeping a bicycle in rideable (and working) condition.
Riding single file on the far right side of roads shared with vehicles.
Heeding all traffic laws while bicycling, including stopping at every intersection and corner to check for traffic before crossing.
Paying attention while riding near parked cars and pedestrians.
Riding with both hands on handlebars unless using hand signals for turning left, right, or coming to a stop.
Refraining from riding in busy streets.
Using a headlight, bike reflectors, and appropriate clothing while riding at night.
Maintaining one person riding a bike at any time.
Refraining from bike stunts.
Refraining from carrying packages while riding.
Refraining from hitching rides with cars and other vehicles.
Refraining from using earbuds or headphones while riding.
Giving pedestrians the right-of-way.
Securing a bike when it is not in use.
Naperville is a very bicycle-friendly city, owing in a big part to the many area parks, followed by well-maintained neighborhoods and sidewalks, and the variety of activities and events offered that keep residents active and healthy. People bike to work and school, or to destinations easily because of being in close proximity to the rest of the community in and around Naperville. To bicyclists, pedestrians, and vehicular drivers safe no matter where they go, the City Council approved a bicycle implementation map in 2006, which in turn went on to become part of the Naperville biking map and guide for riders to keep handy. The information included in the guide are places to visit by bike, instructions on where riders can catch the Metra while parking their bicycle or having bicycles transported to their destination, a review of the bike safety tips and park rules to follow, and a detailed map for bike and shared trails for on-road and off-road routes. There is also a collection of DuPage Bicycle Maps available for cyclists wishing to explore additional areas.
Bicycle Resources
Are you interested in living in Naperville? Call the Listing Agent and Managing Broker of Ryan Hill Group, Teresa Ryan at 630-276-7575 for a no-obligation consultation.
Get a copy of our Home Buyer Guide written by Teresa Ryan for Chicagoland home buyers, visit: FREE Home Buyer's Guide