20 Ways to Make Your Chef's Kitchen Amazing
Posted by Teresa Ryan on Monday, August 10, 2020 at 10:30 AM
By Teresa Ryan / August 10, 2020
Comment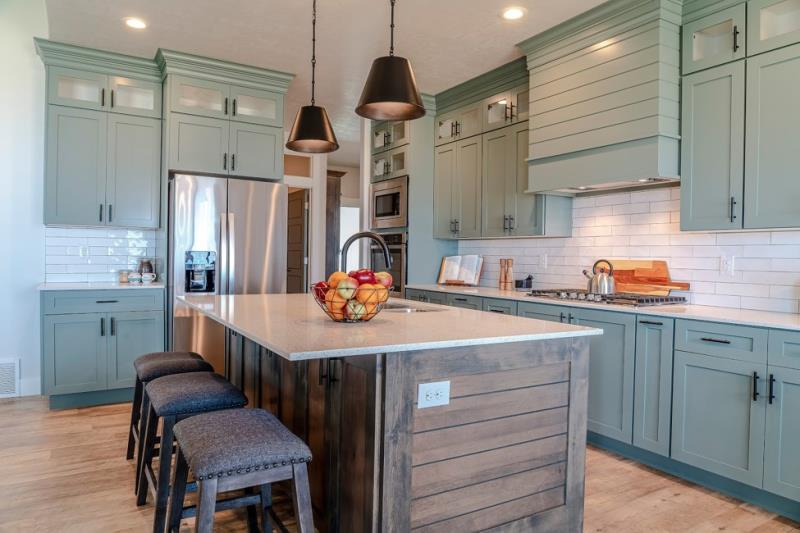 The best use of your chef's kitchen depends on you. With the right mix of appliances, design, and the room's natural flow, you can turn your kitchen into an efficient, well-organized room where you and your family and friends enjoy not just a meal, but also a way of connecting with one another. If you are moving into a new Naperville home, or plan to renovate your chef's kitchen, here are some of the best tips to follow to create an amazing chef's kitchen in Naperville:
Know how best to decorate based on the shape of your chef's kitchen. Identifying with what you have or what you'd like to have, will determine how much space you will have for storage, appliances, and for the room's flow. Whether L- or U-shaped, a galley or an open galley with or without an island, or a straight run kitchen – each layout has its own advantages and drawbacks.

An organized and efficient pantry makes for a smoother transition from planning to cooking. Having the room and flexibility for all your food storage needs means that your pantry should have plenty of storage solutions and accessible shelving. Add a countertop to create a wine or breakfast bar, or a permanent place for your small appliances.

Make the most out of your cabinets by customizing them to your needs – in sizes, styles, function, and color.

An easy way to tie your kitchen elements together is through the use of your backsplash. Not just for keeping liquid spills and stains away, a backsplash is also a stylish reflection of the room's décor, and is available in a variety of colors and textures.

If your kitchen has an island, or breakfast nook, add shelving in it for unique storage solutions, without the need to make your kitchen any larger.

Make use of a multipurpose table (on wheels) in your chef's kitchen to serve as a makeshift island, prepping station, or serving station wherever and whenever it's needed.

Design your own storage around your needs. Just as with customizing cabinetry, the storage space you have around the kitchen ought to reflect the items you need to use by order of importance and frequency; therefore, where you decide to store everything has to make sense to you. Don't be afraid to change things around, remove (or replace/add) doors, shelves, or drawers wherever you need them most.

If you plan to entertain in your chef's kitchen, built-in seating with storage is nice to have. Build a nook or banquette seating with storage shelves or a bench in the corner of the room, or add an island with bar stools that tuck underneath.

Avoid having a monotonous array of shelving or cabinets by giving the room some variety. Just like with decorating the rest of the house, the kitchen needs a focal point, by breaking up the and counters with the addition of a long shelf in between. What you use the shelf for is up to you, but it can be for things like cookbooks, knick-knacks, plants, large pots and pans, and unique home décor.

Horizontal space can only go so far as the length of your kitchen, but vertical storage can take it to new heights – literally! No matter what size you have to work with, and if you don't want to build extra storage, you can vertically hang up unusually-shaped objects vertically on the side of countertops, cabinets, or on walls – such as with knives, pots and pans, serving utensils, or even spices.

You don't have to have everything in the kitchen look the same to match – instead go for an overall tone by mixing up colors and styles for your décor, cabinetry, textures, or hardware so that they complement one another, having their own distinct feel.

The right countertops enhance your cabinetry and cupboards, but are also a surface you will be using constantly – so unless you want to replace them frequently, careful attention to what they are made out of is key. You can choose from wood, solid surfaces, stainless steel, marble, concrete, engineered stone, soapstone, tile, or granite, all at different price points and instructions for their care. For less hassle but more finishes and colors, try engineered stone for a stain-resistant, durable surface that will last for several years at a time.

Efficient appliances make cooking a true joy when you have what you need. Today's appliances are all about cooking, storing, and cleaning smarter – using sensor technology to make things like heating up or cooling down food or washing the dishes that much faster, safer, and energy-efficient than ever before. Speaking of faster, and if space allows, why not add an extra dishwasher so that you always have clean dishes at the ready while entertaining?

Your chef's kitchen is a room you need ample electrical outlets. If you are short on room, retractable outlets or ones that can be concealed when not in use, are definitely the way to go! This can be for charging personal devices as well as for plugging in appliances you don't use every day. You can add them on the undersides and sides of cabinets, islands, or even inside hidden countertop compartments.

No matter what time of day or season, the lighting in the kitchen should always remain bright, whether or not you have windows in the room. Chandeliers, pendant lights, and tracking lights are must-have elements. Individually-controlled lights, and those with dimmers are ideal so that you always have the best use of the light you need.

Having a deep sink with a pull-down spray and sensor nozzle for hands-free use is handy when prepping, serving, and cleaning up. Multiple sinks of two (or more!) makes it even easier – side-by-side, or on different counters.

Hardwood, stone, or tile floors can give any kitchen an inviting and clean look when matched with the right décor and cabinetry. Though they can require additional care, they are durable and never go out of style.

Clean up kitchen messes more efficiently with the installation of a central vacuum system.

Create drawers in place of cabinets for easier reach and to make full-use of the space you have. Deep cabinets can now become tall drawers for large pots, or even appliances.

For easier entertaining, install an icemaker. That way, your guests don't have to keep trekking to the refrigerator.