10 Must-haves for Simple Indulgences in the Home
Posted by Teresa Ryan on Monday, September 26, 2022 at 2:54 PM
By Teresa Ryan / September 26, 2022
Comment
Sometimes the biggest statements are made through the little things; this is true in terms of your work, overall productivity, and relationships, but also in your own personal growth. By taking charge of yourself, you can go to greater lengths, have more lasting happiness, and roll with the proverbial punches when times are stressful. One way to make sure you can cope with everyday stressors is in what awaits you at home. Do you like your surroundings? Does it give you a sense of calm and happiness when you are not rushing off to work or school? If not, don't despair. With just a few finishing touches to turn basic household items into more indulgent ones, you can go from "blah" to "ahhh" without breaking your budget.
Be unique. What's your style? Do you have a fetish for collecting themed items like ducks, teddy bears, or various knick-knacks from your travels? There's no reason why the things that make you happiest shouldn't be on display in some way in your home. They might not be someone else's idea of beauty, but they are unique and meaningful to you – and that's what's more important when making your home a place for YOU to enjoy, not others.
Luxurious bedding and sheet sets. You use your bed daily. Sheets, pillows, duvets, and comforters all show signs of wear much faster than other items in the house, plus they have to be kept clean and smelling fresh. In addition to having more than one set of bedding items, consider the quality of the ones you are using. If you want them to last longer, upgrade to more durable ones with higher thread counts and better fabrics, and you will reap the bonus of a better night's sleep.
Display a tray. Trays are useful but also an attractive piece of décor to add a little something extra to any room. Use them to display beverages and cups, condiments, a centerpiece, or even toiletries. Trays come in a variety of sizes and materials so that they can match any room and any theme.
Decorative bouquets. There's something about the presence of fresh-cut flowers that makes a home feel cheery, fragrant, and whimsical. Whether or not you already have someone special in your life who showers you with such things, there's no reason why you can splurge on a bouquet for yourself! Cost doesn't have to be prohibitive; if you have your own garden, great! Otherwise, for under $10 you can easily get a small arrangement from any grocery store, or opt for a few fresh blooms sold in single stems to create a unique bouquet. Place them in a vase, pitcher, cup, or even a mason jar and display them in any room of your house. You may decide to put some in every room!
Arrange shelves for display. You don't have to buy new items – just arrange what you have in an eye-catching way. Scour Pinterest or any number of home and design catalogs or displays for easy visual ideas.
Buy quality hangers. Hangers that bend, break, or fall apart won't do you any favors. Invest in good quality hangers, so that they will keep your clothes looking neat, easy to find, and ready to wear. For a cohesive arrangement, use all like hangers and your closet will look tidy.
Use accent colors around the house. Room-by-room, there is usually some way to incorporate an accent color of your choice to add some punch to the rest of your surroundings in some way. Try for a throw rug, accent pillows, lamp, or another furniture piece – something that would give a flash of color to break up the monotony.
Upgrade your coffee (or tea) mugs. Pitch the old and worn and opt for new, beautiful cups or mugs for yourself and your guests to enjoy and set the mood. By starting or ending your day with a smile, you will be more relaxed and eager to repeat the experience as often as you fancy.
Keep the house smelling fresh. Do you have a favorite scent? Is it the smell of fresh-baked cookies, vine-ripened tomatoes, or a campfire? Whatever you are into, use candles, room sprays, plug-ins, and diffusers to scent the air and leave a good impression on your guests.
Have an accent wall with wallpaper. A small room or small section of your house doesn't have to remain bland or sterile. By using fun or quirky wallpaper print to dress it up, you can make it complete and have personality without even having to decorate it with any other accessories or furniture.
Are you interested in buying a home in the Chicago suburbs?
To learn more about the many real estate investment properties in Chicago and the surrounding areas, contact Teresa Ryan, Managing Broker / Owner of Ryan Hill Group today at 630-276-7575 or [email protected]
Get a copy of our Home Buyer Guide written by Teresa Ryan for Chicagoland home buyers, visit: FREE Home Buyer's Guide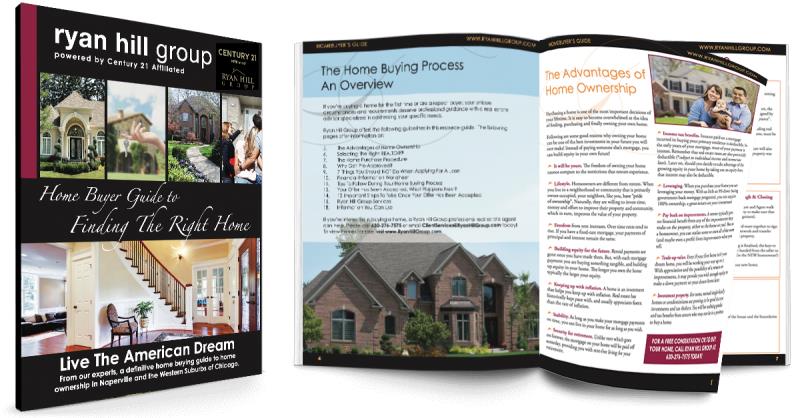 Selling a home? Here's a free Home Selling Guide with all the information, tips and tools you will need to successfully sell your home in Chicago's Western Suburbs.